Story
Darwin • since 2019
Color & Cut fix specialist
Colour and cut correction is not something that should be messed around with. Crystal have specialist correction knowledge so she can find the best solution for your head of hair. Crystal is a magician of colour. She can create over 1000 natural colours just for you. Get the best hair colour at the best Darwin Hair Salon.
Process
darwin • since 2019
organic scalp treatments
Discover the Crystal hair range of hair and scalp treatments to target concerns head on for healthy, well-balanced results. Create a dedicated ritual that incorporates a dry scalp treatment for reduced dandruff, sensitivity and oiliness, and a leave-in hair treatment to stimulate hair growth, density and resistance, for energised strands with maximised shine. Not now then when? Try the best scalp treatment in Darwin city.
Beauty
darwin • since 2019
CRYSTAL HAIR CLINIC HAS OPENED IN THE HEART OF DARWIN CITY, NT IN 2019.
Crystal is a chief hairdresser of CRYSTAL HAIR CLINIC, has had more than 20 year experience in South Korea, Japan and Sydney.  Being awarded Beauty Grand Prix many years, she has been recognised as the best expert in the world. Crystal's hair treatment is very well known and famous. Try the difference!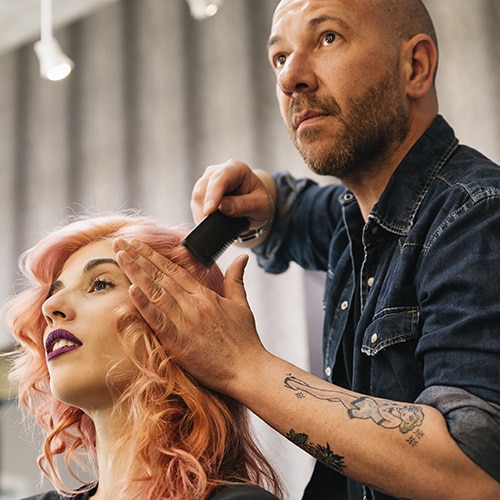 Make it
entrée

If your Hairdresser doesn't seem interested in listening to you, RUN.
It's included wash and styling.
Main Course
Wella, Skincare products with treatment

No ammonia No harsh chemical, From nature ingredient

Colour Services with treament.

Color Service with [10 foils]

Colour Service. The extra charge for the length and condition.

The extra charge is depends on the length, plenty and hair condition.

Permanent Straightening Treatments
CHC Scalp Massage & Treatment

Increasing metabolism of scalp, Enhanced root strength for grow hair

Perm Straightening & keratin

It's a permanent straightening for long lasting,except as regrow part.

Style cut with wash& blow dry

Half[10] foils with treatment & blow

Crystal's C Special & Cut

Half foils with treatment & blow or Cut

Balayage with cut & treatment

Full foils with treatment & blow or Cut

Toner with Deep Treatment

This is for damaged hair.

Scalp & Organic Color Treatment

This is good for the loss and frizzy and damaged hair with scalp.

Japanese Straight Perm with Organic Care

This is good for the damaged and frizzy hair.

Full-Foil with Toner & Organic Treatment

This package is for special client who need to deep treatment together.

Crystal S.I.G Deep Treatment

This is 4 steps treatment by nature organic product
Style
Dessert

The 1% That Makes All the Difference. Try the difference.
More Clearly & Variate color

The extra charge will depends on the party or special style.

Wella Sp Alchemy Treatment

This is for lift up eyelash.
crystal hair clinic
korean hair salon in darwin 
News letter
Get a shiny, satin-soft hair with the best hair products & a team of 
hairdressers that will transform your look. Follow us!
They said
"
Beautiful results
I received exactly the haircut I wanted, with professional, personable service. Will definitely go back. Thanks!
Fixed Color Professional
Very Professional and helpful, I have been to crystal twice now she goes above and beyond to help my mess i made of trying to dye it myself. She will reccommend what she thinks so it doesn't damage your hair. i have had 2 different transformations and have been impressed both times. Very friendly and is always up for a conversation. I am very happy with how my hair turned out and she will give you a good price. Thanks Crystal!!
Master stylist
Have been to Crystals three time now, very happy with my new style haircut, made to feel very welcomed on arrival, Crystal also takes walk-ins without an appointment Getting lots of comments about my hair cut.. Definitely recommend Crystal ... in the Voyager mall in the city
Hair Treatment
I've been going blonde for a while now and have pretty badly damaged hair, I had a treatment and crystal also gave me an amazing scalp massage. Would definitely recommend to head over and see her in smith street mall.
Extremely professional
Crystal & her assistant are both extremely professional & friendly. Their work is of exceptionally high quality and Crystal goes above and beyond to give what you want. I walked out of that salon feeling fresh, light and vibrant with hair a gorgeous new cut & colour. The salon has a sleek modern vibe and is perfectly clean. Thankyou to you both xx